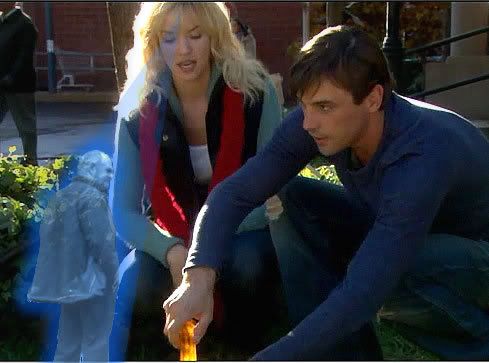 By popular request: Blog Goddess:
1. What is your real name?
Well, some call me Jane or Jericho Jane. Others call me JerichoSaved or sweat629 or sweat1951 or pamsabby and even Blog Goddess.
2. Why so many names?
I was on the CBS board as sweat1951 and got banned so I became sweat629. I joined RadioFreeJericho and used pamsabby for some reason. My real name is Jane but a friend calls me Jericho Jane. After I started blogging my friends at RFJ started calling me Blog Goddess because I blog for Jericho.


3. How many blogs do you have?
I have three. My main blog is Jericho
Monster
. There was so much information that I needed to post that I started Arabelle's
Alley
which is named for my puppy. Then came
JerichoCentral
because, again, there was too much information for just 2 blogs.


4. Why are you so Nuts about Jericho?
I loved the show as soon as it first aired. Smith and Daybreak had just been canceled and I was upset about them. When Jericho was canceled it was the last straw. I couldn't bear the thought of not finding out who Hawkins really is or what Jake has in his past. The main thing I loved from the start was the feeling that there were secrets to be revealed down the road.
5. Who is your favorite character and why?
I love all the people on Jericho even that Mayor. My favorite, though, has always been Darcy Hawkins/April Parker. I think she is much tougher than anyone knows. Robert thinks he knows her but I doubt that. I see much flowing beneath the surface in Darcy and, one day, it will bubble up and out. It actually started to in the finale.


6. What will happen next season?
I'm not sure but I think Jake and Emily will be married by Season 3. Eric will marry Mary Bailey but they'll be divorced by Season 4. In Season 10 I think Hawkin's children will be wanting to follow in their father's footsteps.


7. Who will be the Mayor after Gray gives it up?
Oh, that role will be played by Nina Tassler. See, by then, she's going to say, "If you can't beat Jericho, join it" so she'll be Mayor.
8. What about Stanley and Mimi? Will they get married?
Oh yes. By Season 5 they will get the farm up and running again because Stanley will decide to have a peanut farm which will do very well and Mimi will raise chickens. Did you know her Chicken and Dumplings will be the rage by Season 12? She'll be the one who ends up owing the IRS.


9. This is very interesting. Do you have a source for this information?
Source? You mean like at CBS or on the set?
10. Yes, that's it.
Yes, I have a source. He's rarely seen but he's always lurking. He hears the writers and producers talk about upcoming seasons. I suppose you want me to reveal my source but I will only reveal it in Season 15.
11. Any final comments?
Yes, I'd like to say that I heard a rumor about Leslie Moonves joining the cast soon. He's supposed to play the role of Mimi's boss at the IRS. He'll be coming to town to let Jericho's citizens know that disaster or not they still have to pay state and local taxes.