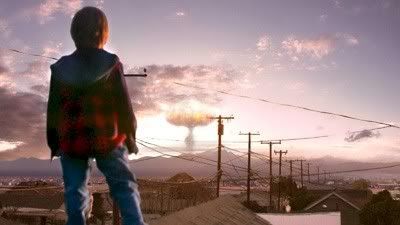 We were all shocked and saddened today to learn that GaTravelGal passed away unexpectedly last weekend. Today I dedicate this blog to her for her love and dedication to Jericho. Keep reading and see why she was a special lady. She will not be forgotten.
July 10, 2007:
GaTravelGirl establishes the Jeriatric Boomers Ward at CBS:
"NOTE TO CBS ADMINS: PLEASE STICKY THIS POST AND MOVE IT TO THE "PROMOTE JERICHO" FOLDER. THANK YOU, THE JERIATRICT BOOMERS WARD!
Hey y'all! I know this has been posted before, but I'm just curious as to how many baby-boomers are in the fan base. I've been referring to myself as a Jericho Jeriatric! I'm 56, hubby is 51, so we're definitely boomers. I'd love to hear from the rest of you. I'd also like CBS to see that this show appeals to us older folks (Jeriatrics) too. Thanks for participating!"
July 11:
"Please tell tell your mom that all of us Jericho Rangers appreciate her support during the Save Jericho Campaign, especially using her SS funds to help out! Let's hope CBS is reading this thread so they'll know how vast the fan base is, and that Jericho appeals to ALL ages. Thanks for posting!"
Aug. 5:
"The 50's: I was born in '51 so I can't remember too much from the early 50's, but some things I do remember are watching Romper Room & Capt. Kangaroo in the mornings before I went to school. As I got older, I remember coming home from junior & senior high and watching The Secret Storm with my mom. I remember riding the street car to downtown Pittsburgh with my parents because we didn't have a car. I remember having a hula-hoop and a "Shirley Temple" doll.
The 60's: I was a teenager in the 60's, graduated in '69. Of course the biggest news was the appearance of The Beatles. I remember getting my first stereo, thinking I was one of the luckiest girls on the face of the planet. On this stereo I played my 45's & even some old 33-1/2's & 78's. I remember always playing just one side of the record because the flip side was something no one ever heard of! I remember wearing mohair sweaters and plaid skirts to school, with knee socks & either saddle shoes or "maryjanes". I remember taking some of the mohair and wrapping it around my boyfriend's class ring so it wouldn't fall off. I grew up in Pittsburgh, so I was really into Motown....Smokey & the Miracles, The Tempations, etc. I remember ironing my hair or going to bed with orange juice cans to make it as straight as possible...along with extremely long bangs! Ahhh, the 60's, I could go on and on....
The 70's: I was married & had 2 children in the 70's. I never really got into the whole "flower child-psychedelic" scene. I will admit, I did get into the disco scene a little bit, but mostly R&B like Earth, Wind & Fire. I actually wore "hot pants" to work with my tall white boots. (OMG!) I had the "Farrah Faucett" hair too!
Anyway...these are just a few of my memories. Care to share any of yours? It might be a real "pick-me-up" for us Boomers during these long, hot summer days (& nights). Come on JERIatrics...let's share memories again!"
She also had her own
blog
doing TV reviews.
Thanks to Susan Davis:
"In the spirit of remembrance for a fallen ranger or, as need2no2 so eloquently put it, a Jericho Angel I am hoping we can observe a
thread
of silence for GaTravelGal to show that our thoughts and prayers are with her family, friends, and everyone she touched in her life.
If everyone could please post 5 stars in your reply to observe the thread of silence. "
GaTravelGirl is our Monster Fan of the Week for her tireless support of Jericho and her love for all Jericho Rangers. See a special tribute to her here on Sat.
Rest in peace JerichoAngel.