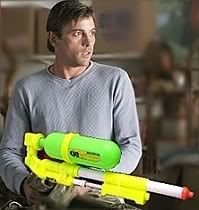 Jake
Green
says, " I'll show you impact."
"Online impact is a factor in
series
planning"
" "The ability to maintain a strong online presence is now critical to getting a series picked up as well as its long-term viability," says Jeffrey Stepakoff, author of TV memoir Billion Dollar Kiss: The Kiss That Saved Dawson's Creek And Other Adventures in TV Writing and a former writer on Dawson's, one of the first series to interact with fans online.
"TV shows were picked up this season specifically for how well they could be repurposed and expanded on the Internet," he says.
"Many of these shows have entire narrative worlds which exist between episodes on television. Look at Jericho. And these shows drive huge amounts of traffic to the parent sites."
"Nielsen launches fans
forum
Online social network geared to TV, film fans"
From Variety