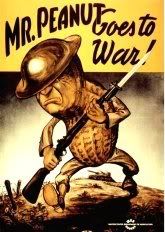 Remember the Nuts:
"After bringing the first season of Jericho to a nail-biting cliffhanger ending,
CBS
followed up by canceling the fledgling show. A little cruel, perhaps, but them's the breaks in show biz. Jericho wasn't performing ratingswise, and the long mid-season break drove viewers away. "
"So it may be no surprise that a new ratings system offered by Nielsen Media Research could fuel the fire for a return of "
Jericho
," which showed that the now-canceled series from CBS had more viewers watching the actual commercials, even when they were playing it back on their DVRs."
CBS Renews
Jericho
"It's official: CBS has renewed the post-apocalyptic drama Jericho for another seven episodes, to air sometime mid-season. Nina Tassler, president, CBS Entertainment, made the announcement on the official Jericho message board on June 6.
"Wow!" Tassler wrote. "Over the past few weeks you have put forth an impressive and probably unprecedented display of passion in support of a prime-time television series. You got our attention; your e-mails and collective voice have been heard. As a result, CBS has ordered seven episodes of Jericho for mid-season next year."
"Jericho'
survives
its apocalypse"
"For "Jericho," the pickup came after weeks of a relentless "Save 'Jericho' " fan campaign garnered with nuts -- tons of them -- sent to CBS executives in protest over the show's cancellation last month.
CBS Entertainment president Nina Tassler broke the news of the sci-fi drama's return in a letter posted Wednesday in the fan section of the show's official Web site.
"You got our attention; your e-mails and collective voice have been heard," she wrote to the fans."
"As much credit as I have given to deserving Jericho fans for convincing
CBS
to reinstate their program, I'm equally inclined to write how they could unintentionally be responsible for destroying any chance for a season three. Right now it seems, the only shadows being cast by their cause are shadows of doubt."
"What this means for
CBS
is simple. Even if the fans do not overrun the ratings at the start of Jericho's second season (I think they will because few shows have this much buzz), CBS will be unable to say the fans didn't do their part. That will be an odd position for the network because social media can be a double edged sword. The more organized fan efforts are today and the more vested they become, the more likely 20 tons of nuts may be an appetizer."
"The Hollywood Reporter has taken to calling it "the Jericho'
effect
." They say "TV bloggers came into their own as a force to be reckoned with this summer when their campaign to save CBS' canceled post apocalyptic drama* 'Jericho' became a triumphant success." (*post-apocalyptic drama is not an appropriate description, but we know what might be.)"