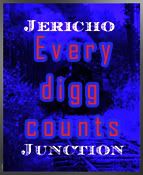 From Terocious:
"EVERY DIGG COUNTS
From now until February 12th I will be stocking up
the Jericho Junction with links to deliciously diggable
Jericho content on
digg.com
.
Visit us at the link below to see what's new and see what you can digg for Jericho!"
http://jerichojunction.blogspot.com/
Don't forget to visit and post at
JerichoRallyPoint
.
Lots of nice Jericho fans are there.