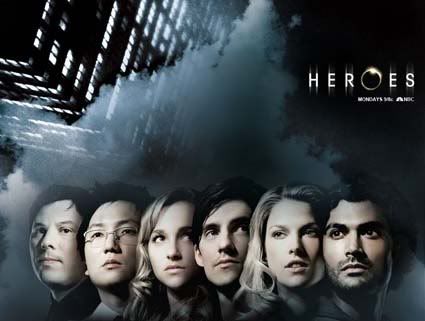 "If you have missed "
Heroes
," the NBC Monday-night series about a group of people with extraordinary capabilities, then you have missed everything, which is to say, you have missed a show that exempts almost no subject of current political or social fascination from the roster of its interests.
More than a quarter of the way into the second season, the ratings have slipped somewhat, but it remains the most engaged drama on television at the moment, a big hand with fingers dangling in every pot."
"Variety reports that
Supernatural
picked up its best ratings of the year, both overall and in the 18-34 group.
And just in case you - somehow - missed it, there's a Hollywood writer's strike going on. Several sources have said that most shows have stockpiled enough scripts to finish out the season. Firefox news posted a link to an article in the LA Times saying that Supernatural only has about 10-12 finished scripts, with 5 more roughly finished."
"Miss "
Veronica
Mars," Kristen Bell, will be lending her talents to Ubisoft's upcoming historical-fantasy game, "Assassin's Creed."